Page 2 of 2 •

1, 2

luvtotha9s wrote:Why do you love to play with realistic rosters?
I guess I
could
answer the question...
I was first turned on to realistic rosters a couple of months after I purchased College Hoops 2K7. I would do random names for every team's players, then fully edit my team's players for all the College Hoops titles before that one (name, appearance, hometown, height, weight, accessories, etc). I found out about Operation Sports in mid 2007, and downloaded a roster file for 2K7 and I've been hooked ever since.
For College Hoops 2K8, I teamed with TheAirUpThere to make a roster file. He did the majority of the work naming the players; I then started taking appearance requests, and then began doing something very time consuming: after every one of my team's real games, I would go to their official website photo gallery and edit every player I saw in the pictures--including the opposing teams. Then I would go through Sports Illustrated and ESPN magazines and edit any player I saw in those.
I hated NCAA Basketball 09 so I took it back one day after buying it, only to purchase it a couple of months before NCAA BB 10 was released, so no work on that one. But after the players were named by the OS community, I started the appearance editing process again, taking any and all suggestions and completing them within 48 hours of seeing them.
I love the realism that names provide, but the thing that sells me on Luv's roster files is that like me, he makes appearance edits. I know this is crazy, but if I see a magazine laying around from 2007 with a picture of a college basketball player in it, I will edit him in College Hoops 2K7--even though I don't even play it anymore. I'm all about realism in college games, and names and appearances take it to the next level.
[img]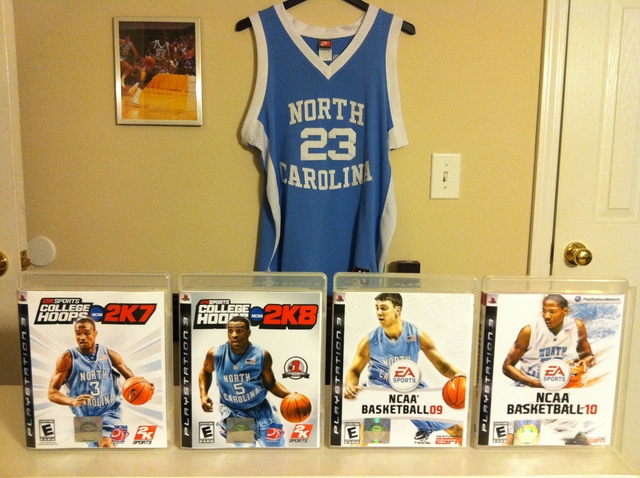 [/img]

jd@os

Roster Lover





Posts

: 177


Join date

: 2011-06-28


Age

: 42


Location

: The Inner Circle



let me ask this question who can name most of the players on their respectable teams without downloading

TMob384

Roster Head





Posts

: 55


Join date

: 2011-07-18



TMob384 wrote:let me ask this question who can name most of the players on their respectable teams without downloading
I can

lilvilly75

Roster Head





Posts

: 20


Join date

: 2011-07-17



Qb, arron Murray, Hutson mason, Christian leman, Parker welch
Rb- Richard Samuel, isaih Crowell, Carlton Thomas, Ken malcome, Ben Barton

Fb- Bruce figgins, alex ogletree, Dustin royston
Te- orson Charles, Aaron white, arthur lynch, jay Rome
Wr- Tavares king, marlon brown, Michael banner, malcome Mitchell, rantavious Wooten, israel troupe,
Tackles- Cordy Glenn, Justin Anderson, Austin long, watts dantzler
Guards- kenarious gates, chris burnette, Dallas lee, hunter long,
Centers- Ben jones, David Andrews

De- abry jones, deangelo Tyson,
Dt- kwame geathers, John Jenkins
Olb- cornelious Washington, Jarvis jones, chase vasser, Reuben faloughi, ray drew
Ilb- Christian Robinson, Alec ogletree, Brandon burrows, amarlo Herrera, ramik Wilson, mark deas
Cb- Brandon Boykin, branden smith, derek Owens, Damian swan, marshal (freshman),
Safety- bacarri Rambo, sanders comings, shawn Williams, Corey Moore, chris sanders, jakar Hamilton

K - Blair Walsh, Brandon bogotay
P- drew butler

That is off the top of my head for UGA, I can give height and weight for most also. Sad I know. Wrote on my iPhone outside watching my daughter so that's why it's messy. Just curious to see how close I am.

Confubitated

Roster Head





Posts

: 15


Join date

: 2011-07-20



Page 2 of 2 •

1, 2

---
Permissions in this forum:
You
cannot
reply to topics in this forum